Sneak peek: Q1 IF & PF tables for MLAs and Bond Arrangers
Last Updated 06 Apr 2021 11:34
Tags
Oil & Gas
Renewables
Power
Telecoms
Europe
At the end of an unprecedented year since the start of the Covid-19 pandemic, in 2021 IJGlobal releases for the first time a series of preliminary infrastructure and project finance league tables in all categories.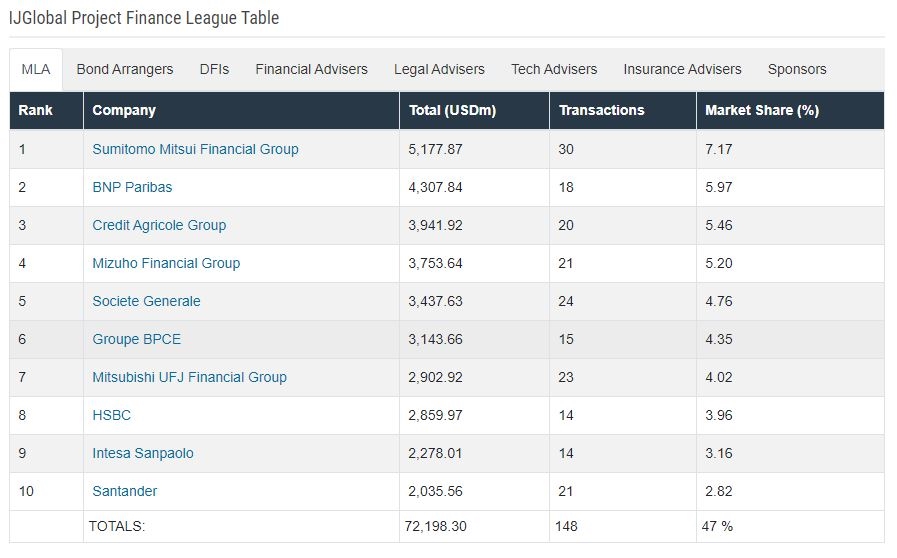 The interim charts for MLAs and bond arrangers capture the momentary picture in all aspects of infrastructure finance based on data available by 31 March 2021, while IJGlobal prepares the final Q1 League Tables Report for the full picture.
Preliminary data shows that the biggest deals during Q1 2021 were concentrated in the oil and gas, telecom (mainly data centres and fibre optic) and power sectors.
Some of the most notable transactions include:
The 450MW Courseulles-Sur-Mer offshore wind farm in France also reached financial close during the first quarter of the year and, at a total value of c. $2.6 billion – reportedly the biggest renewable energy project for the period.
IJGlobal's interim data also suggest a continuation of last year's drive towards capital markets and green financing in both infrastructure and project finance.
Next preliminary league tables to be released:
legal advisers
DFI, financial, technical, insurance, model auditor