IJInvestor Funds & Investors Report – full year 2020
Last Updated 14 Jan 2021 13:45
IJInvestor has released its full-year fundraising report for 2020 – in which infrastructure funds managed to raise more capital than in 2019, despite the global pandemic.
2020 – the year that couldn't end soon enough – is now behind us, and it is time to tally up the results for the infrastructure fundraising market.
The bottom line – infrastructure funds raised 7% more capital ($96.4 billion) from investors in 2020 than they did in 2019 – may seem counterintuitive against the backdrop of economic mayhem inflicted by Covid-19. It's all the more surprising given that the infrastructure market did not go completely unscathed – for instance, in the case of empty airports or overwhelmed hospitals.
But after an initial freeze when the virus first became a global problem, investors got back to work and capital continued to flow into sector. Indeed, the pandemic even coincided with (if not triggered) an unprecedented surge in sustainable investing.
Just a sampling of IJInvestor's proprietary, data-driven insights includes: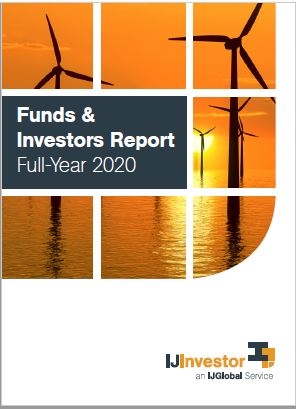 in 2020, fewer funds were oversubscribed. There was also an increase in the number of funds that did not meet their target sizes. 
in H2, for the first time the average size of debt funds that closed was slightly higher than the average size of equity funds.
the percentage of European LPs in funds that closed during 2020 has dropped significantly, from 52% in 2019 to 36% in 2020. Asian LPs were willing to take more risk by investing in new funds that launched in 2020.
investors pumped an additional $5.5 billion into telecoms transactions in 2020 compared with the year before.
spending on oil & gas assets dropped precipitously – by over $20 billion
To read the report (which appears in the reports section) in full, CLICK HERE...