AIIB: an Asian multilateral putting focus on digital
Last Updated 31 Jan 2020 15:16
Tags
Telecoms
Asia Pacific
The Beijing-based multilateral Asian Infrastructure Investment Bank (AIIB) issued on 14 January (2020) a call for public comments on its draft digital strategy to finance Asia Pacific's rapidly evolving telecoms sector. IJGlobal data shows that in Asia Pacific, MDBs have had a lower rate of involvement in project financings in the telecoms to date, compared to other sectors.
Europe first
Multilateral development banks (MDBs) have been sporadically financing and advising the telecoms sector over the past 10 years (1 Jan 2010-31 Dec 2019). The first project financing transaction that reached financial close was African Development Bank's (AfDB) $76 million debt tranche for the Helios Towers Nigeria Expansion in 2010. The last was Asian Development Bank's (ADB) $25 million A loan for the Kacific-1 satellite late last year (2019).
In all, IJGlobal data shows seven MDBs – ranging from European Investment Bank (EIB) and European Bank for Reconstruction and Development (EBRD) to Corporación Andina de Fomento (CAF) and the World Bank Group – have project financed internet, mobile, satellite and terrestrial subsectors.
MDBs have a particularly high rate of involvement in telecoms projects across Europe and Sub-Saharan Africa, where they are over-represented if comparing with rates of MDB involvement across all energy and infrastructure sectors. Meanwhile, they participate less than the average, making them under-represented, in projects in the telecoms sector in North America, MENA, Latin America and Asia Pacific.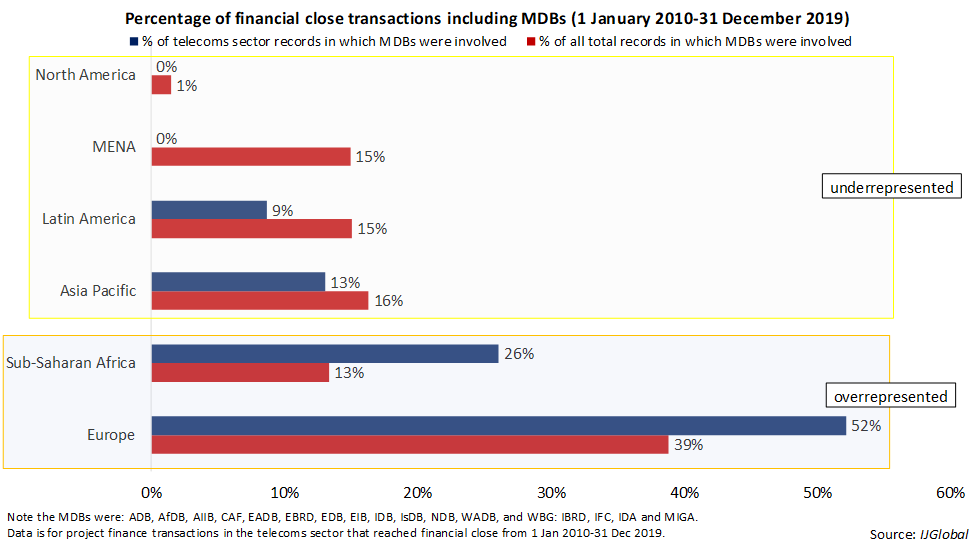 New kid on the block
AIIB's proposed digital strategy is the latest attempt by an MDB to take a strategic approach to the digital economy.
The bank has published six strategies, ranging from sustainable cities to the transport sector. It now has two draft strategies in the water sector and digital infrastructure. It issued the water paper in October 2019.
AIIB principal policy and strategy specialist Frank Belitz told IJGlobal: "The international flavour was impressive." Belitz anticipates the board of directors to approve the revised water strategy at its April (2020) meeting.
Now AIIB, a relatively new MDB, is focusing on its draft digital strategy. Public comments are welcome until 10 March, while the deadline may be extended.
"It's always been the bank's intention to address digital infrastructure," noted Belitz. "Both in terms of economic and social development but also applications of technology to our core infrastructure sectors. We have a strategic vision to become a leader in financing and fostering digital infrastructure development."
ADB was one of the early proponents, in November 2003, to have a strategy for information and communication technology. In December 2012, AfDB issued its IT strategy. In the meantime, a review of EIB's 93 strategy documents reveals none focus on digital and telecoms. Yet EIB is arguably the most experienced MDB in the telecoms sector, adding another deal with its recent $25 million debt tranche in EllaLink Subsea Network Cape Verde Link-Up.
Paul Lam, AIIB's strategy officer in digital infrastructure, said: "About four billion people in the world are not connected to the internet through broadband." In Asia Pacific, internet penetration is particularly worrisome in South Asia (42%) and Central Asia (50%).
"Digital divides involving gender, rural-versus-urban and income, a rising digital infrastructure gap, weakening financial capabilities for digital infrastructure, and sluggish application of technology into infrastructure sectors, are all contributing to opportunities for AIIB," added Lam.
AIIB's digital strategy organised digital infrastructure into hard and soft components in four investible subsectors:
hard:

connectivity and transport – physical infrastructure that carries digital data between devices, data infrastructure and services
storage and processing – computing power to run services and storage of data of users

soft:

services and applications – functions / applications that create economic value-add to business sectors and customers
terminals and devices – interfaces between users (human or machines) and the digital services and applications
The infrastructure sector, save oil and gas, has significantly lagged behind in technology adoption, according to the two AIIB strategists. 
"AIIB expects to go beyond its traditional financing role to help build a strong ecosystem and foster the adoption of technology in infrastructure through the demonstration of its benefits," said Belitz.
The development of the bank's draft digital strategy has stirred internal discussion about how it will apply the strategy to its own operations, for instance, in promoting financial technology in the infrastructure financing market.
Meanwhile, AIIB conceded externally fostering the adoption of infratech and soft infrastructure will also be challenging. Lam underscored the difference between the B2B disruptors in the infra market and those in consumer-facing sectors.
"We're dealing with strategic assets and very large, important economic buyers and decision-makers. Your solutions have to be prudent," said Lam.
He cautioned: "It's not easy for venture capitals, growth and equity investors, or governments to discern the applications of these technologies and the financing of the technologies. The mainstreaming of them are much harder than similar technologies in retail, media or any other consumer-facing industry."
A successful case has been the adoption of building information modeling (BIM) systems (virtual design tools for 3D models and simulations), which most procurement departments now include in their requirements. A subsidiary of Thai materials company Siam Cement had signed on 10 January (2020) a joint venture agreement with Swedish firm BIMobject for the Thai market. 
Digital investment gap is growing
"Asia's telco and data center operator capex is forecast to hold up better than other regions, as industry revenue growth rates are higher," reported AIIB. "This will allow them to fund more capex out of cashflow, but not enough to avoid a substantial investment gap."
Lam added: "The digital economy is here. And for financiers and investors, digital infrastructure can be a key component of their core-plus strategy to find yield."