Institutional investors bid high on LatAm infra
Last Updated 29 Nov 2019 16:45
Sophia Radeva & Nikola Yankulov
Tags
Oil & Gas
Renewables
Power
Transport
Latin America
In search of greater returns, institutional investors (II) from all around the globe seem to be increasingly prepared to take on greater risk. One example of this is a rising appetite for direct investment in Latin American infrastructure, with 2019 figures being three times higher than the full previous year.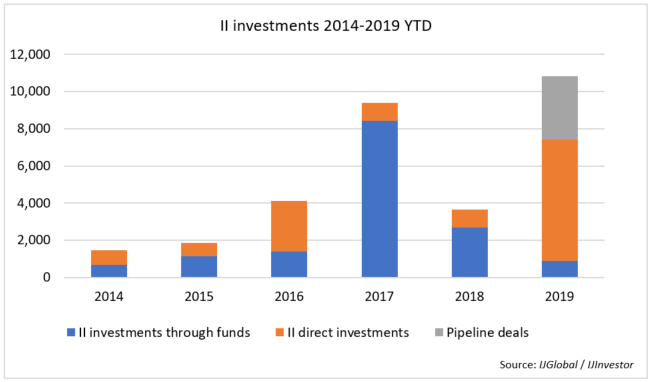 So great is the hunger for higher yields, that fewer institutional investors seem to remain in part cautious of the regional challenges and have taken direct equity investments off their plate. Contrary to the overall trend, IJInvestor data suggests that in 2019 a smaller fraction of institutional investment has been eased by a mediating infrastructure fund.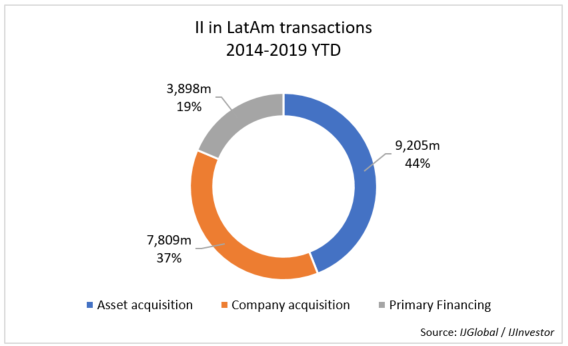 IJInvestor and IJGlobal data show that most of the Latin American transactions that had an institutional involvement for the past five years were mainly in the M&A space. This could be explained not only by the participation of infrastructure funds but, compared to the US for example, attracting investors from abroad.
| | | | | | |
| --- | --- | --- | --- | --- | --- |
| Transaction Name | Value ($m) | Sector | Country | Financial close date | Fund/Institutional investor |
| Privatisation of 90% in Transportadora Associada de Gas (TAG) |                         8,298 | Oil & Gas | Brazil | 13/06/2019 | CDPQ |
| |                         4,230 | Oil & Gas | Brazil | 04/04/2017 | Brookfield Infrastructure Fund III |
| |                         1,926 | Power | Colombia | 20/01/2016 | Brookfield Infrastructure Fund III |
| |                         1,800 | Telecoms | Brazil | 19/12/2018 | Brookfield Infrastructure Partners |
| |                         1,357 | Multiple | Mexico | 25/04/2018 | Actis Energy 4 |
| Acquisition of 80% of Enel's Mexican Renewables Portfolio (1.7GW) |                         1,350 | Renewables | Mexico | 25/10/2017 | CDPQ |
| |                         1,210 | Transport | Brazil | 14/04/2014 | Fundo de Investimento do FGTS |
| |                         1,200 | Power | Multiple | 19/12/2016 | ISQ Global Infrastructure Fund |
| Acquisition of Inkia Energy's Latin American and Caribbean Businesses |                         1,200 | Renewables | Multiple | 31/12/2017 | ISQ Global Infrastructure Fund II |
| Acquisition of Pemex Exploracion y Producto Oil & Gas Assets |                       1,195 | Oil & Gas | Mexico | 16/06/2016 | CDPQ |

According to IJGlobal and IJInvestor's top 10 deals involving a fund or an institutional investor, the most active among all were Canada's Caisse de dépôt et placement du Québec and Brookfield Infrastructure, followed by US-based I Squared Capital.
Over the last two years, CDPQ and Brookfield have both engaged in acquiring, among other, some key gas transport infrastructure in Brazil, with the acquisition of controlling stakes in Transportadora Associada de Gas (TAG) and Nova Transportadora do Sudeste (NTS), respectively. Furthermore, I Squared targeted the power and renewables sectors in a broader range of countries, while UK-based Actis, through its fourth fund, has snagged conventional power generation and midstream assets in Mexico.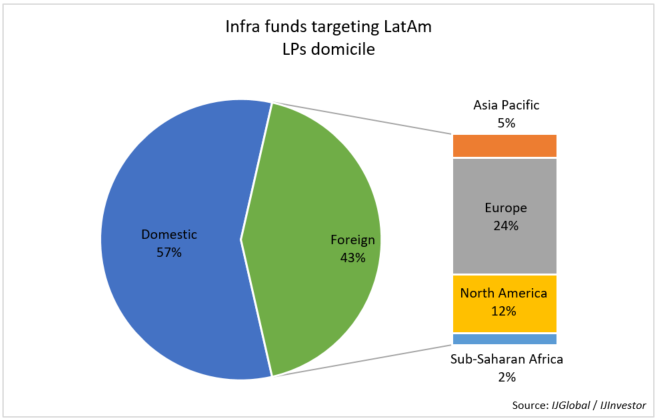 Looking more closely at IJInvestor's data on all infra funds targeting LatAm investments exclusively, it becomes clear that almost half of all LPs come from abroad with Europe still prevailing.
It could be said that infrastructure in LatAm will remain a critical growth engine and will provide more and more opportunities for risk lovers. With ongoing privatisations targeting the disposal of key power generation and distribution facilities, as well as gas pipelines, it seems that the potential for institutional investors in Latin America is largely untapped.
In July of this year (2019) Brazilian energy incumbent Petrobras put more stakes up for sale in a number of generation and distribution companies, some of which have already attracted foreign infra funds. IJGlobal and IJInvestor data suggest that currently the LatAm infra pipeline deals, involving institutional investors, totals more than $4.1 billion, with the biggest deal in it by far being the acquisition of 70% in Mexican toll-road company RCO by Spanish concession giant Abertis and Singapore sovereign wealth fund GIC.