Zeroing in on Dutch offshore wind
Last Updated 25 Nov 2019 08:15
The Netherlands earlier this year announced a winner in the country's second zero-subsidy offshore wind tender. It was only open to subsidy-free bids and paved the way for a first negative subsidy tender due in 2021.
On 10 July (2019), the Netherlands Enterprise Agency (RVO) announced that Sweden's Vattenfall had won the 760MW Hollandse Kust Zuid III and IV offshore wind concession in the Dutch North Sea. 
The Netherlands' second subsidy-free offshore wind tender, following the successful bidding process for Hollandse Kust Zuid I and II in March 2018 – incidentally won by Vattenfall through a Dutch subsidiary – sources told IJGlobal in March (2019) that the Dutch Government was looking to continue in the same vein by only accepting zero-subsidy bids to develop and operate the Hollandse Kust Zuid III and IV zones.
According to a source, Hollandse Kust Zuid III and IV will be the last zero-subsidy project in the Dutch North Sea, with the upcoming process for the Hollandse West zone already confirmed as a negative subsidy tender where the winning bidder will pay for the concession.
While the government does takes on some of the risk associated with zero-subsidy bids, with a new framework guaranteeing stable market conditions, and government grants and support to project consents and auxiliary infrastructure, the planned negative subsidy tenders underlines the strength of investor appetite for Dutch offshore wind.
Winds of change
The Netherlands aims to have offshore wind account for 40% of its overall energy mix by the end of the next decade. The Dutch 2030 Offshore Wind Energy Roadmap designates new offshore wind zones in the North Sea scheduled to see construction between 2024 and 2030 in order to meet this target.
IJGlobal data show that the Netherlands to date has roughly 1GW of operational offshore wind assets. The operational projects are:
Total operational capacity is expected to rise to 4.5GW by 2023 and 11.5GW by 2030.
The tender to develop new offshore wind zones is due to continue this quarter (Q4 2019) with the launch of the 700MW Hollandse Kust Noord, followed by 1.4GW Hollandse Kust West in 2021 and 700MW Ten Noorden van den Waddeneilanden in 2022.
The Netherlands looks to add these offshore wind areas to its impressive pipeline of projects already under development:
| | | |
| --- | --- | --- |
| Project name | Capacity (MW) | Tender year |
| | 350 | 2015 |
| | 350 | 2015 |
| | 365.75 | 2016 |
| | 365.75 | 2016 |
| | 350 | 2017 |
| | 350 | 2017 |
| | 20 | 2017 |
| | 350 | 2018 |
| | 350 | 2018 |
Work in progress
According to IJGlobal data, the majority of the offshore wind projects under development in the Netherlands are in the pre-construction stage (61.3%), with a smaller proportion in construction (14.51%).
With a combined capacity of over 8GW, they will bring about a significant increase to the country's total output when they come online in the mid-2020s.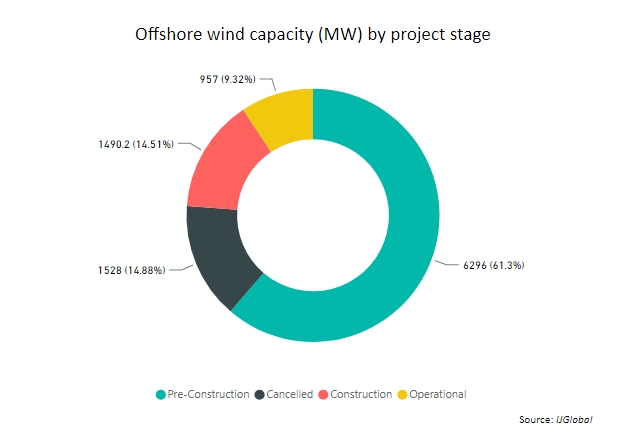 IJGlobal data also shows that bank loans have been the main source of funding for Dutch offshore wind projects for the past five years, with commercial lenders putting up over $3.4 billion over that time period.
In comparison, DFI and state lending appear considerably lower, though together they account for around $2 billion of debt.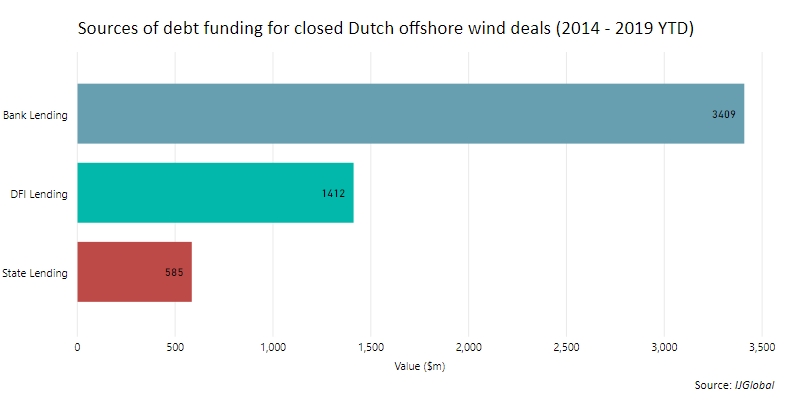 Although bonds have not been used to directly finance offshore wind projects in the Netherlands, the country's transmission system operator (TSO) TenneT recently issued a €1.25 billion ($1.4 billion) green bond to finance a series of substations linking the assets to the onshore electricity bid.
As TenneT is responsible for providing transmission infrastructure for Dutch offshore projects, it takes the financial and administrative burden off developers, contributing to making the Dutch offshore wind space an attractive destination for developers and investors.