The Lone Star state closes its final toll road deal?
Last Updated 22 Aug 2019 13:57
Tags
Transport
North America
Texas is recognised as one of the few US states with a successful P3 programme, having closed around six deals from 2008-2016. Following a lull, a new segment (3C) of the 35W redevelopment project in north Texas reached financial close in August (2019) – and could perhaps be the last privately funded toll road deal in the Lone Star state.
Bringing the number of closed deals to seven, the transactions are:
On 23 June (2019), the Texas Department of Transportation (TxDOT) awarded two comprehensive development agreements (CDAs or P3s) for the North Tarrant Express (NTE) project to NTE Mobility Partners.
The first CDA was for the DBFOM of 13.3 miles of I-820 (segment 1) and SH 121/SH 183 from I-35W to SH 121, from north of Fort Worth to just south west of Dallas-Fort Worth International Airport (segment 2W). The duration of the concession was set for 52 years.
The second CDA was for segments 2-4 – for which master plans needed to be developed for the remainder of the corridors, which explains the lack of a procurement process for segment 3C of the 35W project. The corridors were:
segment 2E – SH 183 from SH 121 to SH 161
segments 3A, 3B and 3C – I-35W from I-30 to the Eagle Parkway in Tarrant and Dallas Counties (NTE 35W)
segment 4 – I-820 east from SH 121/SH 183 south to Randol Mill Road
North Tarrant Express (NTE) Mobility Partners was the concessionaire that won the deal, and at the time it comprised:
Cintra – 56.7%
Meridiam Infrastructure – 33.3%
Dallas Police and Fire Pension System – 10%
The $2 billion project closed in 2009 with the consortium issuing $398 million in private activity bonds (PABs). At the time, JPMorgan, Bank of America and Barclays Capital were the lead bookrunners of the offering.
The rest of the financing package comprised:
$650 million TIFIA loan
$594 million public funds
$426 million equity contribution
The involvement of the Dallas Police and Fire Pension System was the first time a US pension fund had invested in in the building and maintenance of a major toll road project.
In August 2012, a fourth private partner – Dutch pension fund APG – joined the concession by purchasing a portion of Meridiam's shares (12%) in the project.
However the line-up for segment 3C (the concession name is now NTE Mobility Partners Segments 3 or NTEMP3) has changed slightly and now comprises:
Cintra – 53.7%
APG – 28.8%
Meridiam – 17.5%
Financing and project details
NTEMP3 closed segment 3C of the 35W deal with $659 million in private activity bonds (PABs) issued.
The bonds were issued by the Texas Private Activity Bond Surface Transportation Corporation and underwritten by Bank of America Merrill Lynch and Barclays Capital. The trustee was Citibank.
The repayment of bonds will begin on 30 June 2047 and will mature on 30 June 2058. Bonds have a coupon of 5.00% and priced at 325bp.
They have been rated:
Moody's – Baa3 (stable)
S&P – BBB- (stable)
The equity investment amount is $160 million and the total value of the project is $910 million.
PABs were approved in July (2019) though the total amount at that point was $750 million. The PABs were secured by revenues from expressway segments 3A, 3B and 3C.
The project will rebuild 6.7 miles from north of US 81/287 (Heritage Trace Parkway) to Eagle Parkway in Denton County. It will include:
reconstructed main highway lanes
expanded frontage roads
two TEXpress managed lanes
Ferrovial Agroman US and Webber will take on construction with substantial completion slated for 2023.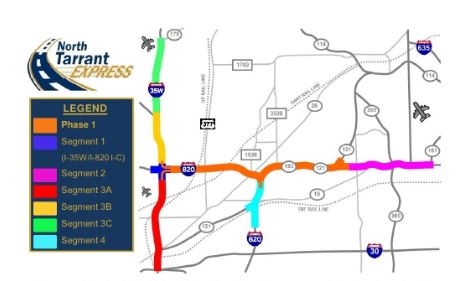 NTEMP3 will DBFOM this new segment along 35W which connects with two other operating segments of the interstate.
A TIFIA loan was not used for 3C as the developers would likely have had to renegotiate the existing 3A/3B loan as part of the 3C loan process.
KPMG acted as financial adviser to the Texas Department of Transportation with Nossaman providing legal counsel. Jacobs was technical adviser.
Gibson Dunn and Hunton Andrews Kurth acted as legal adviser to NTEMP3 with BAML acting as financial adviser. Steer Davies Gleave was traffic adviser.
McCall was bond counsel to the conduit issuer (Texas Private Activity Bond Surface Transportation Corporation).
Baker McKenzie was legal adviser to the underwriters. Infrata was technical adviser to the lenders with Louis Berger acting as traffic and revenue adviser.
Belen Marcos, president of Cintra US, said: "The 3C project is the culmination of 10 years of progress and growth in Tarrant County. This new segment will complete the connection between downtown Fort Worth and Alliance and tie directly into the redeveloped Loop 820 and Airport Freeway."
Conclusion
Market sources have said that this will likely be the last toll road deal of its kind in Texas given that political support for the P3 model waned when the state legislature drafted legislation putting a two-year moratorium on CDA projects in 2007. At the time, former governor Rick Perry (2000-2015), an advocate of P3s, countered this with a watered down version of the moratorium given the public outcry on the use of P3s  – allowing all existing P3 projects to continue but banning any new proposals for toll roads.
Unfortunately, Texas never really recovered from the moratorium which was renewed in 2009 and subsequently is still in place to this day.
In 2017, a new bill was introduced to allow TxDOT to partner with the private sector on a stretch of Interstate 35 through Austin, the LBJ Freeway in Dallas and its eastern suburbs, Interstate 35E through Denton County, Interstate 45 in Houston and Loop 1604 in Bexar County. However this bill was shot down in the legislature and that is the last we have heard on any kind of private investment for toll roads.