Australia's Spencer Gulf: a renewables-industry-export vision
Last Updated 06 Jan 2020 15:04
Tags
Oil & Gas
Renewables
Power
Mining
Asia Pacific
There is not one but three pumped hydro energy storage projects in advanced development in the Spencer Gulf region in South Australia, as part of a burgeoning pipeline of green energy projects.
These aim to solve grid stability concerns and to power the region's major resources and potential hydrogen industry. Greenfield industrial port projects complete the vision of the Spencer Gulf's exceptional export opportunity.
The South Australian state's treasurer Rob Lucas boasted at the Spencer Gulf Renewable Energy Conference on 7-8 August 2019 that already 47% of the state's electricity in 2017/18 was from renewables,
"The Australian Energy Market Operator forecasts that within a few years South Australia is heading toward 70% of generation from renewable sources and by the 2030s could potentially be close to approaching 100%", Lucas said.
With fully installed capacity from wind farms at 1,926MW, the state is the leader in Australia. Large-scale operational solar PV installed capacity stands at 372MW, but Lucas pointed to the pipeline's potential to "re-assert South Australian's position as a nation leader".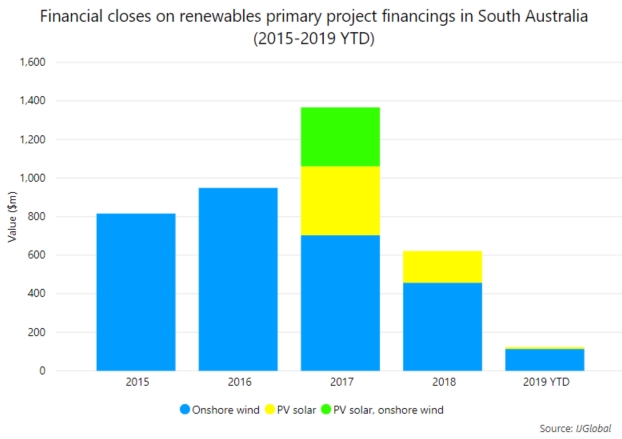 In the Spencer Gulf region alone there is already 310MW of installed large-scale renewables,. The region also accounts for a significant portion of the state's development pipeline of 8GW of renewables generation and 4GW of energy storage.
Industrial hub
The Spencer Gulf is the westernmost of two large inlets on Australia's south coast. Cape Catastrophe and the Eyre Peninsula are in the west, while Cape Spencer and Yorke Peninsula are to the east. The major towns are Port Lincoln, Whyalla, Port Pirie and Port Augusta.
The region is an abundant area for mining – including iron-ore (mostly magnetite), copper, cobalt, zinc and graphite resources as well as local processing facilities.
Port Augusta was well-known as the home of SA's baseload coal power. The 240MW Playford B and 520MW Northern power stations used coal from Leigh Creek 250km away. But their closure in 2016 came about relatively suddenly - Alinta announced the closures and demolished them within one year. This left a gaping hole in the area's energy generation base.
The concerns around this time of an economic decline, with various major industry players closing facilities, proved unfounded.
European metals giant Nyrstar unveiled in 2018 a plan to totally re-develop the Port Pirie smelter, while Sanjeev Gupta's UK-headquartered conglomerate GFG Alliance acquired and rescued the Whyalla Steelworks in July 2017. GFG Alliance's "transformation" project for Whyalla includes upgrades to boost production 50% to 1.5mtpa.
Local authorities and SA Government advocate positioning Spencer Gulf as a world-leading hydrogen production hub. Australia is taking its mark for the global race to grab export markets, as soon as technology can facilitate hydrogen's role as a mainstream fuel.
South Australia had already put together a Hydrogen Roadmap by September 2017 with Asian exporting ambitions. SA has spent A$17 million on four projects:
Australian Gas Infrastructure Group's Hydrogen Park SA (a 1.25MW electrolyser project to produce hydrogen from renewables and inject into the local gas grid)
The Hydrogen Utility (H2U)'s 30MW water electrolysis plant and sustainable ammonia production project
Neoen's Crystal Brook Energy Park – to feature a 50MW hydrogen production facility as part of a wind, solar and battery renewables hub
University of South Australia's hydrogen production, hydrogen fuel cell, flow battery, chilled water storage and solar PV cells demonstration project
The Green State
Industrials are factoring green power into their Spencer Gulf operations, and local council leaders said at the conference last week they would be delighted for South Australia to be known as "the green state".
For example, OZ Minerals has a test underway for using renewables around the in-construction Carapateena copper-gold mine and processing project, with a 250kW hybrid renewable energy solution trial project.
GFG Alliance has coupled its ambition at the steelworks with a $1 billion plan to develop 1GW of renewable energy projects in the South Australian state through its Australian renewables developer SIMEC Energy Australia. The main generation project in its SA portfolio – the A$500 million ($338 million) 280MW Cultana Solar Farm on the brink of financial close with Chinese lenders – will feed green energy into the steelworks.
Balancing the grid
Investors in Spencer Gulf are stepping up to ensure grid stability.
South Australia is offering development grants via its A$50 million Grid-Scale Storage Fund, which will seek co-funding from the Commonwealth's Australian Renewable Energy Agency (ARENA). Treasurer Rob Lucas said it "attracted 50-plus proposals, many in the Spencer Gulf region", and as of late-July it was "deep in the evaluation stage" for the bids.
The transmission operator ElectraNet is committing its own capital, such as on the 30MW/8MWh Dalrymple Battery Energy Storage System, using a Samsung lithium-ion battery, to connect to its Dalrymple substation.
The developers' hybrid renewables and battery projects in development include:
Advisers Energy Estate and JLL are at the start of a competitive process to bring strategic investment partners on board with EPS Energy for its three projects.
There are three large-scale pumped hydro energy storage projects in the area:
EnergyAustralia is targeting a final investment decision for December 2019/Q1 2020, while SIMEC Energy Australia is at the start now of the feasibility study. Rise Renewables is targeting financial close before the end of 2019.
Thermal solar storage was hoped to be a part of the grid stability equation in Spencer Gulf. SolarReserve formally axed its 150MW Port Augusta-area concentrating solar power (CSP) molten salt project Aurora in April 2019, stating it could not achieve financial close within the deadline set by the government.
Others are looking at CSP in the region, however. Solastor, a locally-based CSP developer, hopes to eventually use the Spencer Gulf's graphite resources for CSP, rather than importing synthetic graphite from China as for its developments to date.
The impetus behind all this storage capacity coupled with new generation, is galvanised by the inter-state 916km interconnector planned between SA and New South Wales, which starts right by the EPS Energy project in Robertstown. Last month (July 2019) the A$1.5 billion project, led by ElectraNet and Transgrid, won "major project status" from the South Australia Government.
Export opportunity
Although greenfield economic infrastructure such as airports and ports is rarely attempted without the bedrock of government funding, the Spencer Gulf region has two greenfield export port projects in planning. The ambition is that the producers of the natural resources, hydrogen, grain and metals could all be strategic partner of these ports.  
A Chinese owned iron-ore magnetite producer in the area named CU-River Mining this year acquired the Port Augusta coal plant site from former operator Flinders Power. Port Augusta City Mayor Brett Benbow announced he met with CU-River a month earlier (July 2019) to discuss their "five-year plan".
CU-River plans for a A$250 million bulk commodity and transshipment port, with up to 15mtpa capacity initially. The site already has a 5km rail loop and unloading facilities. CU-River will also consider feasibility of a large-scale solar project here.
There could be another port in the region if miner Iron Road can progress its plans for the 70mtpa capacity, deepwater Cape Hardy Port on the Eyre Peninsula. Iron Road itself expects to be able to export 20mtpa of iron ore from here for 30 years-plus. Iron Road promotes the project as "South Australia's first port to accommodate Capesize vessels".
Speakers at the conference espoused not the SA state but the Spencer Gulf region's particular opportunity to be a global paradigm of industrial and renewable energy integration and export.
---

An insightful 'year in review' APAC summary report published by IJGlobal - the financial information provider to global energy and infrastructure markets. A must read for infrastructure finance market participants, including researchers, policymakers and executives. Download your report here.