Uzbekistan's privatisation programme
Last Updated 05 Sep 2019 10:21
Tags
Oil & Gas
Renewables
Power
Transport
Social & Defence
Water
Telecoms
Mining
Asia Pacific
Following an April (2019) decree by President Shavkat Mirziyoyev and subsequent cabinet resolution, the Uzbekistan Government has embarked on a sweeping privatisation programme. Ahead of the upcoming Tashkent International Investment Forum in October, market sources told IJGlobal what foreign financiers and investors can expect.
"There have been several attempts to introduce PPPs in Uzbekistan formally," cautions Tashkent-based Nodir Yuldashev, partner at Grata Law, "but they have not gained support." He emphasises, however, that the government has introduced "dramatic and decisive reforms" since 2016.
The privatisation programme has three mechanisms. The first aims to transfer ownership of state-owned assets and companies to the private sector. The second seeks to structure, tender and execute a pipeline of PPP and IPP projects. The third involves opportunities for the private sector to provide foreign direct investment (FDI) in projects.
Transfer ownership
"As a rule, privatisation has not touched large market participants or giant plants in strategic industries such as chemical industry, energy, oil and gas, and automobile industry," notes Yuldashev. "This privatisation programme has been significantly widened and covers practically all economic industries, including the giants. Some of them have already been transferred to professional management companies, some of them are being prepared for."
Following the presidential decree and cabinet resolution, the Uzbek Government has generated a list of 29 state-owned enterprises to take private. A total of 12 relate to the energy and infrastructure markets. Two-thirds of those selected are in the oil and gas industry, with an equal focus across the Bukhara, Fergana and Kashkadarya regions.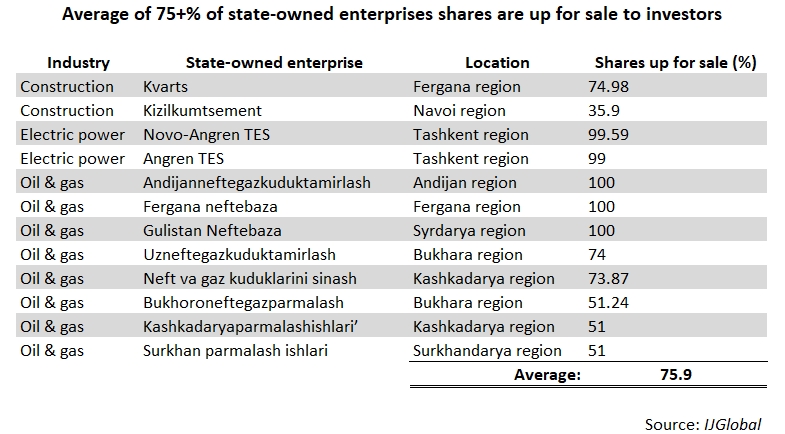 The government plans to list another five companies, including Uzbek Republican Commodity Exchange, on the local stock exchange. None relate directly to energy or infrastructure.
PPP / IPP pipeline
The privatisation programme also includes a pipeline of PPP and IPP projects the government aims to implement, bolstered by the new PPP law that became effective in June 2019.
"Many of the projects are at a very early stage so the structuring has not been carried out to set out the risk allocation," said Syed Uddin, a policy adviser to Uzbekistan's Ministry of Finance (MOF) and the PPP Development Agency (PPPDA). "However, the general position is to replicate international best practice in relation to the structuring of projects, subject to any necessary localisation that may be needed."
Uddin has more than two decades structuring and delivering infrastructure transactions. His career comprises 16 years advising the PPP programmes for governments, including the UK (HM Treasury) and Bangladesh (Office of the Prime Minister's PPP Authority).
Grata Law associate Tatiana Popovkina agrees: "We are at the very beginning of the PPP road." The majority of projects are at the stage of consideration and preparation since "no separate regulation governing the stages from the initiating of the concept of PPP project till the entering into PPP agreement has been introduced yet".
IJGlobal data indicates that around 80% of the 28 projects are in the pre-financing phase while nearly one-fifth are in the healthcare sector.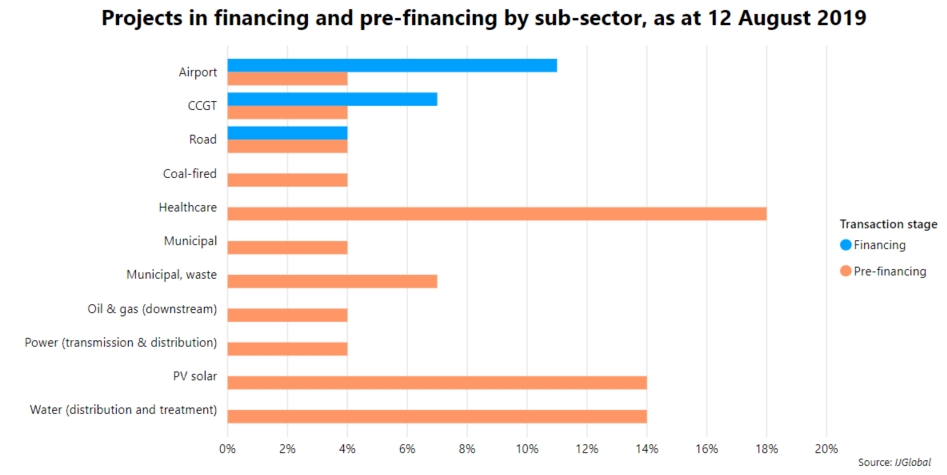 IJGlobal data also shows that the projects are roughly equally split between green and brownfields, with Asian Development Bank (ADB) acting as transaction adviser to the government on six of the projects, including the Tashkent District Heating and Bekabad and Tashkent Solid Waste PPPs.
Foreign direct investment
The Uzbek Government is seeking FDI in 86 investment projects totalling more than $6 billion. While the agricultural sector includes 26 proposals estimated to cost more than $550 million, 11 projects relate to energy and infrastructure, ranging from mining in Navoi to social & defence in Namangan.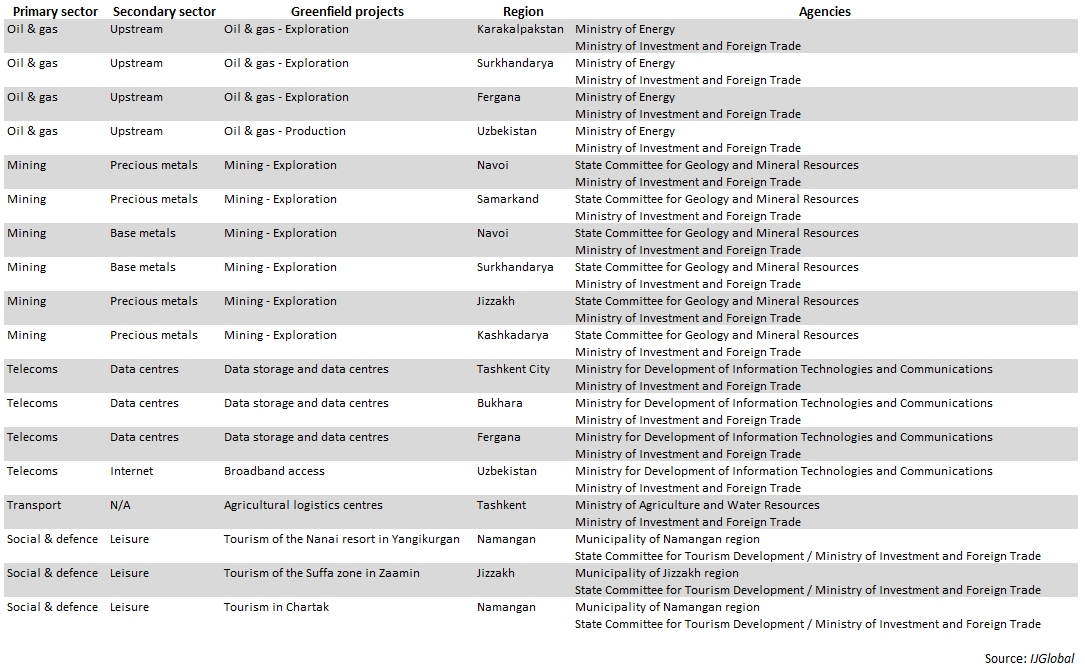 Next steps
The difference between this programme and previous privatisation pushes may hinge on the government's more structured approach this time around.
"The fundamentals look good for Uzbekistan as they are doing the right things by relying on development finance institutions to help them create the right investment framework for the country," says a Tashkent-based adviser.
Despite having only two tenders announced – haemodialysis centres in February 2019 and the 100MW Navoi solar farm – "a number of legal acts and a number of template PPP agreements and tender documentation on different areas are expected to be adopted soon", according to Grata Law's Popovkina. 
"The Navoi Scaling Solar project advised by IFC is one of the most mature projects as it has been put out to market," adds MOF policy adviser Uddin. "The risk allocation in that project broadly follows the standard approach that has been been used in other scaling solar projects.  So investors should find the overall approach very familiar."
Investments Minister Sardor Umurzakov anticipates 1,700 delegates from nearly 50 countries at the October investment forum in the capital city of Tashkent. Though his ministry has not announced a formal agenda, IJGlobal expects a lot of the buzz to be about whether this time is any different.
Market participants who spoke with IJGlobal believe there will be incremental progress tempered by how credible financiers and investors view government guarantees, which they are sure will be on offer, as projects move through the pipeline.
"The only issue is the scale of the PPP programmes compared to the financial capacity of the country," says a market source. "The government may have to moderate their ambitions at some point to let the country digest all these projects, including associated direct and contingent liabilities on the government's balance sheet."
---

IJGlobal – the financial information provider to global energy and infrastructure markets – provides decision-makers with compelling insights from Asia Pacific during H1 2019. 
Packed with key stats and insights from industry leaders, this report contains: 
Analyses range from Taiwan's burgeoning offshore wind market to increasing long-term debt financing options for Australia's PPPs.
All discern the driving forces behind projects which have reached financial close and explore industry trends, enabling you to gain market intelligence for your next board or investment committee meeting.
Download your report here.