Brooklyn Navy Yard cogen refi, US
Last Updated 15 May 2019 15:18
Axium Infrastructure completed the refinancing of the Brooklyn Navy Yard 286MW gas and oil-fired cogeneration facility in New York on 14 February (2019) using hybrid financing comprising tax-exempt bonds, taxable notes and funds held under accounts created by the 1997 tax-exempt indenture.
Axium Infrastructure acquired 100% of the ownership of Brooklyn Navy Yard Cogeneration Partners (the owner of the facility) in July 2018 from Ares EIF US Power Fund IV. Axium partly financed the acquisition through private placement notes. The project was previously acquired by Ares EIF in 2013.
Energy Investors Funds, which became Ares-EIF when it was bought by Ares Management in 2015, acquired the plant from Tyche Power Partners in 2013.
At the time, the plant was undergoing repairs totalling $20 million since Hurricane Sandy hit the New York area. Its turbines were not damaged but equipment required replacement or refurbishment.
Following the completion of major maintenance in 2017, S&P raised the rating on the project's outstanding senior secured bonds from B- to B+ citing strong performance in 2016 and an updated financial forecast in addition to the successful rotor refurbishment of unit 2 of the facility.
The 286MW plant generates steam and electricity in the New York Independent System Operator Zone-J power market. The cogeneration facility has long-term offtake agreements with ConEdison and the Brooklyn Navy Yard Development Corporation that expires in 2036. The plant can produce up to 1 million pounds of steam per hour and began operations in November 1996.
Financing
The refinancing consisted of $323 million of senior secured notes privately placed by Barclays, a $30 million senior secured letter of credit facility provided by Santander, and a $82.135 million subordinated loan from the proceeds of tax-exempt bonds issued by Build NYC Resources Corporation (Build NYC).
Barclays was also the underwriter on the tax exempt private activity bonds issued by Build NYC.
Other terms of the refinancing include $10.4 million in equity and a debt service reserve account of $15 million.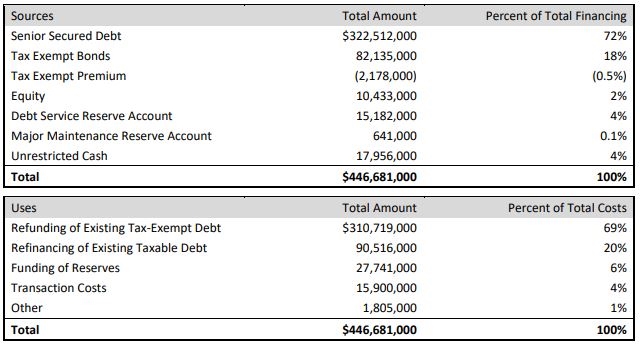 The proceeds from the financing were used to redeem:
$307 million of New York City Industrial Development Agency tax-exempt industrial revenue bonds issued in 1997 to refinance the development, construction and improvement of the facility
around $30 million of bonds issued by BNYCP in 1997 and 2004
$60 million of senior secured notes issued by Axium BNY Cogeneration Partners, BNYCP's indirect parent company and pay transaction costs and certain other expenses in connection with the transaction
As of February (2019), S&P raised the ratings on all of the tax-exempt debt to AA- from B+.
Advisers
Advisers on the deal were:
Winston & Strawn – legal counsel to Axium Infrastructure and BNYCP
Barclays – M&A adviser
Latham & Watkins – legal counsel to lenders
Winston & Strawn and Barclays also advised Axium on the original acquisition of BNYCP.
At the time of acquisition, Paulo Arencibia, vice-president and investment director of Axium Infrastructure US, said: "BNY benefits from predictable cash flows derived from its Energy Sales Agreement with ConEd with 18 years of remaining contract life. The project is a great fit with our core investment strategy and will further diversify our growing US portfolio."