Trillium Line Extension P3, Canada
Last Updated 17 Apr 2019 13:23
Tags
Transport
North America
The Trillium Line Extension DBFM project in Ottawa reached financial close in April (2019) with SNC-Lavalin – through its wholly-owned subsidiary TransitNEXT – selected to build the project. This was despite grumblings from competing teams that the company failed to meet the minimum technical score of 70% set out in public documents provided by city officials.
Since 2011, SNC-Lavalin has been at the centre of a scandal of fraud and corruption in connection to kickback payments it made to undisclosed government officials regarding the C$1.58 billion ($1.18 billion) McGill University Health Centre P3.
Legal authorities in Switzerland also launched an investigation into SNC examining C$139 million in payments to a Swiss bank account tied to construction contracts in Libya, and for assisting senior officials of Libya's former government to flee the country during the 2012 coup against the government.
Despite these controversies, SNC-Lavalin will build 12km of single and double track of the Trillium LRT project, extending the lines from Greenboro Station to a new terminus station west of Limebank Road, as well as a 4km airport link – a section of which will connect to the Ottawa Macdonald-Cartier International Airport. The project also includes:
construction of two new stations on the existing Trillium Line at Gladstone and Walkley
four new stations along the extension at South Keys (also offering connections to the Southeast Transit way and the Airport link), Leitrim, Bowesville and Limebank
two new stations along the new airport link at Uplands and Airport Terminal
supplying seven new Stadler vehicles and overhauling six existing Alstom trains
construction of a new Walkley Yard maintenance and storage facility (MSF)
extension of five station platforms on the existing Trillium line (Bayview, Carling, Mooney's Bay, Carleton and Greenboro) to accommodate longer trains
delivery of new municipal infrastructure, including two new pedestrian bridges to improve connectivity along the alignment
maintenance of the entire system for 27 years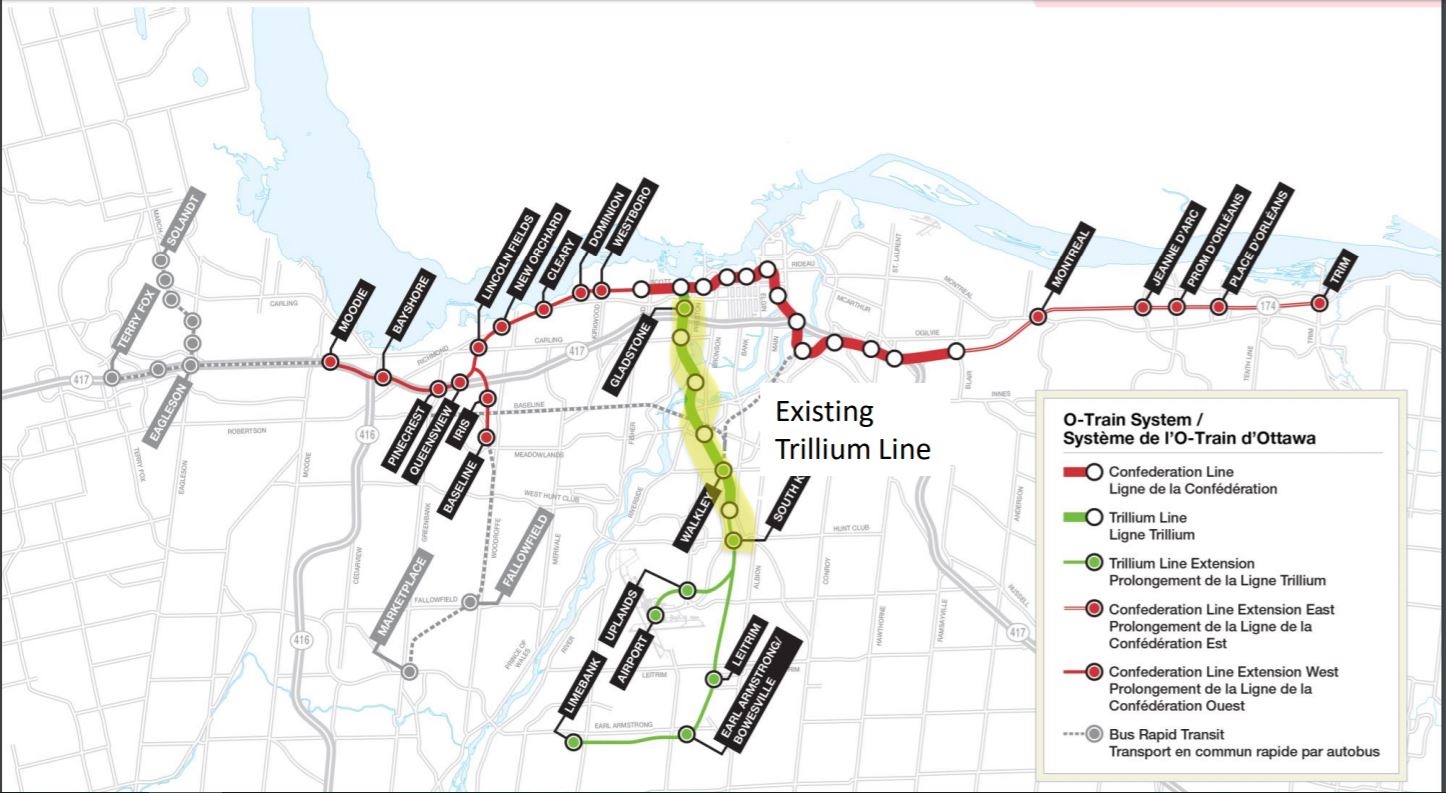 The engineering giant is part of the Rideau Transit Group which holds the concession contract for Ottawa's Confederation Line (stage one).
Procurement
An RFQ for the DBFM project was announced in April 2017 with three teams shortlisted in July. They were:
Trillium Link – Acciona, CAF, Thomas Cavanagh and GRC Architects
Trillium Extension Alliance – Plenary, Colas and Tomlinson
TransitNEXT – SNC-Lavalin
Final financial and technical bids were submitted in September 2018 with SNC-Lavalin's TransitNEXT selected as initial preferred bidder in November. It was confirmed as preferred bidder in March (2019).
Following on from questions about the low technical scoring, Chris Swail, director of O-Train planning, said in a statement that "the city stands by the overall integrity of the procurement process in no uncertain terms," and is "satisfied with the results" of the procurement.
The project is slated for completion in 2022.
Ottawa city's auditor general has said that he will be launching a compliance audit of the procurement process for the Trillium LRT project.
Financing
The C$663 million ($497 million) fixed-price contract will see SNC-Lavalin provide C$136 million in an upfront private deferred contribution. This means that it has made a contractual commitment to provide financing to be sourced through private capital and repaid by the City of Ottawa through a maintenance payment regime.
Toronto Dominion and National Bank of Canada provided the debt package.
The long-term cost to maintain the existing Trillium Line and its new extension brings the total value of the contract to C$1.6 billion.
Advisers to SNC-Lavalin were:
Torys – legal
National Bank Financial – financial
The lenders advisers were:
McMillan – legal adviser
Altus – technical adviser
Deloitte was financial adviser to the city of Ottawa and Norton Rose Fulbright provided legal counsel. Other advisers include:
FVB, Stantec, Ever-Green Energy and Robertson Martin Architects – technical advisers
Tiree – project management
Jonathan Wilkinson, president, infrastructure of SNC-Lavalin Group, said of the project: "A truly transformative project for Ottawa's O-Train system, the Trillium Line Extension will reduce environmental impacts, shorten daily commutes and accelerate economic growth in the Nation's Capital."